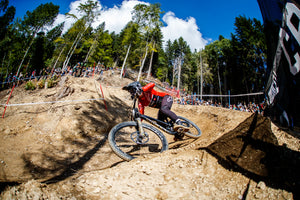 NS Bikes UR Team
Les Gets World Champs
Hello Everyone,
This week we were in Les Gets, France for the 2022 World Championships and It was the biggest Downhill race that we have ever seen in the history of the sport!
First impressions of the track were excitement as the track is super steep, very technical rooty sections, huge jumps and long off camber corners. The boys said it was one of the best tracks they had seen all season.
KYE A'HERN
Kye was riding well all week and loving the track, he was visually fast from the side of the track. He didn't have a very good run in qualifying but was sure that he had more in the tank. Kye said "he is really stoked to put a solid run together with all things considered this week. It has been such a crazy event to be a part of and he was proud to be selected for the Australian national team. I am stoked on another solid race and very happy with the results. Looking at the times I was 3 seconds from 5th place. Can't wait for the final world cup in Val Di Sole, Italy next week." Come race day his bike was set up perfectly and he had a great run except for one little mistake and ended up 17th. 
George Brannigan
George had a rough start to the week, he said "it was a really rough week for me battling with sickness, I wish I could have felt at my best because the track was epic and the crowd was just amazing. It was such a great event to be part of. I was proud to race for my country and be one of only 7 riders to be selected." George has battled some immune issues and fought through this week to finish 41st. 
I was back commentating for Redbull tv this week and what an exciting race it was. Lots happened in the women's field and there were a few surprises. As always it was a good laugh to be beside Rob Warner in the booth.
We are all very excited to head to Italy for the final world cup this weekend. It has been a long season and we are all motivated to finish on a high.

- Tracy Hannah
The Chains Used By The Team