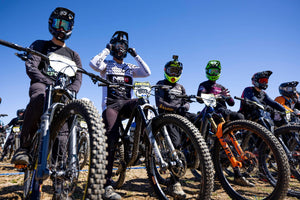 NS Bikes UR Team
Megavalanche
Hello Everyone,
This last week thanks to SR Suntour we went to the Megavalanche in Alpe D'Huez for possibly the craziest MTB event in the world. It was the first time for all of the team racing the Mega and even Sam joined us as well. It was an eye opener for all of them. Due to high temps in France there wasn't much snow which made it even more treacherous for the team. Hitting high speeds into slushy snow is pretty insane, even for the pro's.
Starting off with some bad news
Tracey was racing the E-Mega on the NS E-Fine and unfortunately during her qualifier she got taken out by another racer who lost control and it ended up with her being unconscious and suffering a concussion, so she will have to take it easy the next few weeks.
You can watch her crash on Instagram below
"It was too scary and sleeping in the middle of a race isn't ideal, stoked on the heli ride and the morphine after party though." - Tracey Hannah
George Brannigan
George was on a heater in his qualifier, getting out the gate (tape) faster than anyone and grabbing the hole shot out of the 2nd turn. Ended up taking 2nd and that put him on the front row for the main event on the Sunday which is exactly where you want to be. 
KYE A'HERN
Kye had some work to do as his qualifier wasn't quite as smooth as George's, someone went down in front of him in the first corner causing him to go over the bars but he battled through and in Kye's words "I had the most wild heat". He managed to battle up to 2nd place and stick it on the front row for the main on Sunday with George.
Sam Reynolds
Always high on stoke and a good time when Sam joins the team for an event or get together. Sam lined up for his qualifier mid pack, 101st to be exact. In classic Sam style he charged his way up to 14th and laughed most the way down taking in all the carnage that was surrounding him.
"I really didn't know what to expect coming into my first mega, was totally bricking it all morning before the start but made it out alive and actually had a sick time!"
"The mega was absolutely insane! Longer, gnarlier and more brutal than any video ever shows. It's a great feeling to get to the bottom in one piece!"
George and Kye were front row lined up side by side for the main with Sam sitting in the middle of the mayhem that was about to take place. The snow was super soft making the top section real hard work for the boys and involved some running! A couple of mistakes here and there and a crash from George but the boys all made it down in one piece. George taking 20th, Kye 37th and Sam 160th, he was stoked to get down alive.
"I had no idea what I was getting myself into when coming to do the Megavalanche and boy it was a wild ride! I've never been so scared yet excited to ride!! Loved every minute of it and made it out alive, so I'm already looking forward to next year!!"
Next stop is Lenzerheide, Switzerland for the 4th round of the World Cup this weekend and will be joined by Vanesa to go racing again. Let's go! 
The Chains Used By The Team