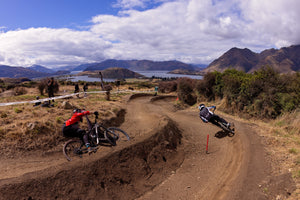 NS Bikes UR Team
Crankworx Rotorua
Hello Everyone,
What a memorable time here at Crankworx Rotorua 2023! The team was busy all week competing in a wide range of events from Dual Slalom, Downhill, Whip-Off, and much more. Below is a quick recap of what and how we did during our time in the southern hemisphere.
Whip Off
Things kicked off with the Whip off and for this one it's George Brannigan that represented the team. George made it to the super final and threw some shapes.
Air DH
Air DH was on an updated track this year that was much slicker than we would have liked but ended up making for a great race.
Vanesa Petroska
Raced her DH bike and after a tight battle managed to grab 2nd place as a Junior!
Kye A'hern
It was Kye's first time racing Air DH on the Rotorua track. Despite being a rookie, Kye managed to keep his lines tight and ended up with a 7th place finish. Not bad for a first timer!
George Brannigan
Still recovering from his injury, George was getting beat up a bit by the physically intensive track. Despite just getting back into shape George locked in a 14th place finish with teammate Fabien Cousinié on his heels in 15th.
Pump Track
The track was tight and technical and both Kye and Vanesa raced. Kye managed to make it to 16th but ended up getting knocked out against the fastest qualifier. For Vanesa she was feeling good on the bike and we saw that in the results as she ended up taking the win!
Speed & Style
Normally, this event is Sam Reynolds territory. But with Sam off in South Africa, Kye decided to take on the challenge and represent the team. Not much of a trickster, Kye focused on speed and managed to throw in a toboggan or two to end up in 10th.
Overall it was a great Crankworx and start to the season with a few ups and downs and a good collection of medals. Now we wait for the World Cup season to begin and get ready to race!
The Chains Used By The Team