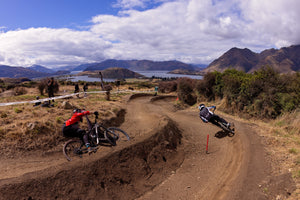 NS Bikes UR Team
Crankworx Summer Series
Hello Everyone,
Last Sunday the team started racing the Crankworx Summer Series on the South Island of New Zealand. The series' first event was the Dual Slalom of Wanaka Glendhu bike park. The location was epic and the dual slalom course was fast and long so our athletes put it all out on the line for some good battles.
Vanesa Petroska our Junior rider managed to qualified with the Elite pro and after a forfait of her competitors in the first race she made it to the semi finals where she finished 4th
Fabien Cousinié was on a big weekend of racing after racing XC on Saturday and before taking on the Dual Slalom. Sore from the XC race he managed to make it to the quarter final to finish in the top 8 after being taken out by the winner of the race.
Kye A'hern rode extremely well and really showed us that he is in top form this year, he qualified 3rd and did some great racing. In the end Kye was able to grab 3rd place and walk away with the bronze medal!
Next up we will be racing the Crankworx Summer Series DH race of Cardrona.
The Chains Used By The Team