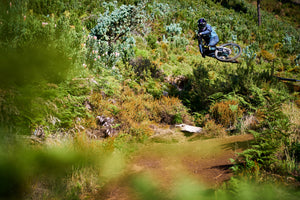 NS Bikes UR Team
2023 Launch
Hello Everyone,
After a couple of year hiatus we are finally back in Queenstown NZ, our southern hemisphere team base and we've picked back up our tradition of creating a team launch video for the new season!

This year the off season has been particularly long, of course our riders are doing a lot of training and testing but like everyone we try to change our mind and have fun beside riding bikes. Well, we failed, and once again we've reached the same conclusion, nothing is more exciting than riding our mountain bikes!

We are really happy to keep working with the same riders and keep progressing together to go faster and further (Mainly for Sam Reynolds). For our staff, our mechanics will remain the same, with Ryan Thom and Gavin Jones on the wrenches. We will also see the addition of Ferris Fairbairn as a road manager, and Tracey Hannah and Fabien Cousinie will be trading their riders hat for manager hats throughout the year.

Regarding our schedule, the team will be busy attending events ranging from the Downhill World Cups, Crankworx, Megavalanche, IXS Cup, Red Bull Hardline, Darkfest and others.
Sam Reynolds - "I'm stoked for another year of big air and good times with the team. It's already been a busy start for me with the Freeride Fiesta, UR team camp in New Zealand, and just getting back from Darkfest! I'm excited about all kinds of riding coming up, including racing my first enduro race at Trans Madeira! "
Kye A'hern - "It was a good start to the season for me with a podium at the Australian championship but also tough with a shoulder injury, but that has made me even more hungry to get back stronger than ever! And man, am I excited to get back racing with the team! Nothing beats spending time with a good crew and riding bikes! Looking forward to keep building off some good results into this season and getting after some top 10s!"
George Brannigan - "I'm definitely stoked to get overseas and start racing! I've had a tough off-season with health issues but am finally on the up with some good things I've learnt, so it's looking pretty positive now, the best is fast and I'm ready to go after it at the world cup and get redemption at Red Bull Hardline."
Vanesa Petrovska - "I can't wait for the season to start! I'm looking forward to spending more time with the team. I'm entering the new season with much more experience than last year when I was racing World Cups for the first time. I've worked on my weaknesses so my goal for this second year junior is to step on the World Cup podiums with consistent results."
Tracey Hannah - "The team opener was such a fun time. I'm super happy that I have been able to take a win at the Crankworx Summer Series DH. A lot of change ahead for me this season, but getting the ball rolling is very exciting."
Fabien Cousinié - "Another year of managing and fun racing for me. Between Dual Slalom, Enduro and Ebikes, I'll try to bring some fun content and some good results!

I feel it also helps as a manager to race still and keep my riding on point; it's always good to relate to the riders and help with bike set-up or training."
Vinci Vodan - "I'm turning 15 this year, and this is my first real season of racing DH, so I'm really excited. I struggled at the beginning of the year due to my broken hand but now I'm back on the bike and working my way back step by step. I feel great on my new NS Fuzz. Let's go!!"
We look forward to another great season, stay tuned for more updates!
The Chains Used By The Team