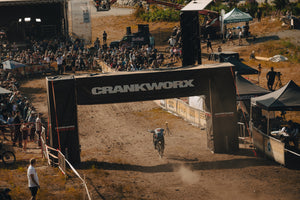 Back in British Columbia
We are happy to be back at the Crankworx Whistler festival and racing the Canadian open Downhill once again!

This years event took place on the brand new 1199 track in the honor of Steve Smith. And what a track it was with big jumps, fast sections, huge rock gardens and a lot of loose sections, it was without a doubt one of the hardest tracks of the year.

So for Kye coming back from his shoulder injury on this track was definitely a challenge but he managed to conquer this track finishing 5th in a competitive field.
Kye started off the week riding smart not overdoing it on a track that was changing a lot. After putting down a smooth run and taking 4th place in qualification he was relieved to know his strength and speed were back. For his race run Kye stepped it up going a lot faster than his quali time, he rode smooth but just 2 second shy of the winning time which placed him in a great 5th position.
Tracey Hannnah
It was also great to have Tracey doing the live commentary for Redbull TV.